South Florida Father Saved at the Miami Burn Center after Suffering Life-Threatening Burns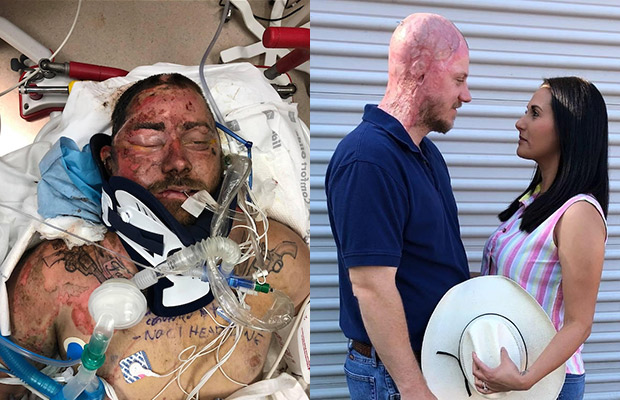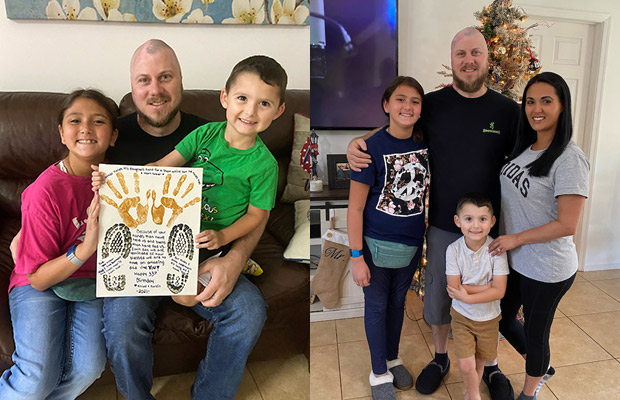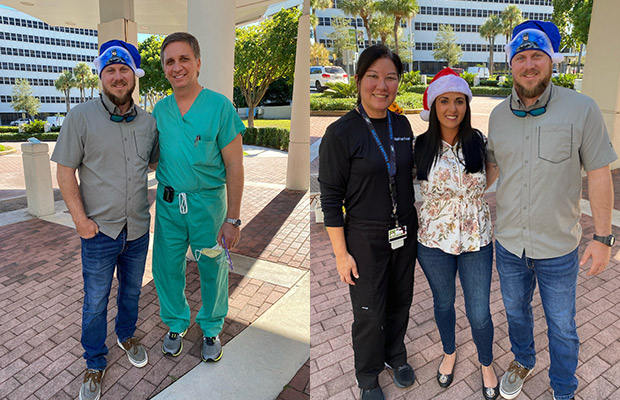 In September 2019, John Pendleton suffered life-threatening injuries at work after more than 4,000 volts of electricity entered through the top of his head and exited out of the back of his neck.
The father of two was rushed to a nearby trauma center in West Palm Beach, where he underwent an emergency tracheotomy after aspirating in his lungs.  Once he was stabilized, he was airlifted to the Miami Burn Center, located inside Ryder Trauma Center at Jackson Memorial Hospital.
His medical team at the Miami Burn Center determined he had suffered a traumatic brain injury, a skull fracture, brain bleed, and third and fourth degree burns to 30 percent of his upper extremities. His organs were also shutting down.  He was placed under a medically-induced coma, and remained in the burn intensive care unit for seven days.
"I was sleeping at home with our one-year-old when I received the devastating call," said Tiffany Pendleton. "They told me my husband was taken to Ryder Trauma, and that they didn't know the extent of his injuries other than what they could see on his scans, and that it could take some time before he could wake up."
Pendleton, then 31, was in extreme pain, and had a long journey ahead of him.
"At that point, John's diagnosis was very grim," said Dr. Louis Pizano, medical director of the Miami Burn Center. "We didn't know if he would be able to walk, talk, and live independently if he survived his severe injuries."
Pendleton's burns were so severe. He lost his right ear, and 40 percent of the left one. Doctors also had to extract part of the latissimus dorsi muscle – the large, flat muscle covering the width of the middle and lower back – to reconstruct his head flap, which was severely burnt in the accident.
A critical part of Pendleton's recovery at the Miami Burn Center was intense inpatient physical, occupational, and speech therapy. Miraculously, he beat the odds, and walked out of the Miami Burn Center 60 days after his accident.
"It was a very rough time in my life, but we have remained optimistic through this entire journey," he said. "After my injuries, my outlook on life has changed.  I am so grateful, as tomorrow is not promised."
Since his injury, Pendleton has had 10 surgeries in total, and is expected to undergo more reconstructive surgeries in the near future.
The Pendleton family is grateful to the medical team at the Miami Burn Center for all the care he received.
"Having relationships with the doctors who saved my life, participating in burn events, and bringing everyone cookies when we visit means the world to me," said Pendleton. "Even after all the pain I've been through, I'm still standing here and I owe it all to them."