Jamaican Firefighter Severely Burned Travels to Miami Burn Center at Ryder Trauma Center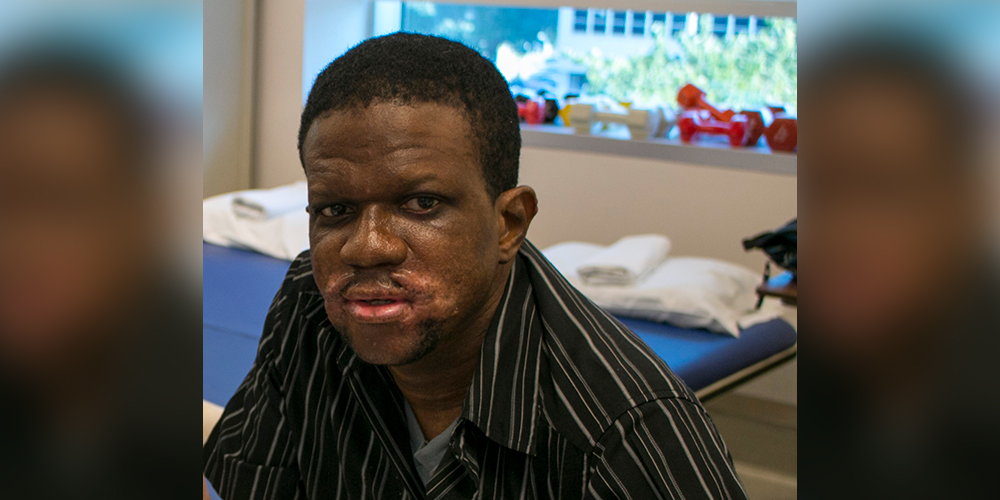 In August 2015, firefighter Tennyson "Mackie" McFarlane was responding to a routine house fire in Kingston, Jamaica when a propane tank exploded inside the structure. McFarlane suffered severe burns to his hands and face.
The 38-year-old firefighter underwent 12 surgeries over six months. Doctors in Kingston provided the best care available to them, but resources were limited. Clinicians lacked the specializations needed to treat burns, and to provide occupational therapy.
"I was told I was at risk of losing my fingers," McFarlane recalls. "They also told me I could never go back to work."
Fate took a turn for the better when a despondent McFarlane met retired Miami-Dade Fire Rescue Captain Natosha Gonzales and Lieutenant Kevin McCrea, a burned firefighter himself. They both provided the confidence and courage McFarlane needed to travel to Miami to receive advanced care.
The best place for him to receive burn care was at one of the leading burn treatment facilities in the nation. Miami Burn Center, housed at Ryder Trauma Center, is a noted facility where a team of highly specialized UHealth-University of Miami Health System burn surgeons, Jackson nurses, and rehabilitation therapists could help him recover.
McFarlane made the sacrifice to leave his home, wife, and young daughter to seek treatment at the burn center with the help of Miami-Dade County Fire Rescue and the Miami-Dade Firefighter Union Local 1403. Gonzales also provided him a place to live and raised money to assist with his medical expenses.
Within weeks, the occupational therapist noticed that McFarlane was making tremendous strides, especially in the ability to move his hands.
"When he first got here, he couldn't tie his shoes, he couldn't feed himself or use the restroom on his own," said occupational therapist Angel Alvarez. "He still has a long way to go, but he is now doing all the above."
"Doctors here at UM/Jackson have assured me that I will be able to go back to work," McFarlane said. "I am looking forward to regaining the quality of life I had before."